Tube labeling system AXON 2
Labeling tubes reliably in real time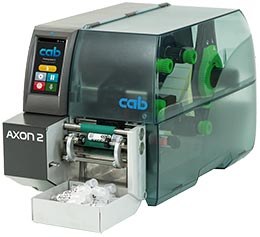 In order to evaluate analysis reliably and quickly, tubes must be labeled uniquely.
In practice, 2D codes or linear barcodes are printed on self-adhesive labels and the labels are applied on the tubes.
Print resolutions of 300 or 600 dpi, a sharp-edge print image and high contrast enable even tiny 2D codes to be verified. Thermal direct and thermal transfer printing are possible.
AXON 2 suits for labeling tubes individually as a manual workstation or integrated in sample processing systems
Tubes of diameters 10 to 17 mm can be processed, capped or uncapped. Printing and labeling take less than two seconds. After the tubes have been labeled, they can be removed one by one or be ejected to a tray. Self-explanatory symbols enable intuitive operation. The label roll and the ribbon are easy to remove.
If it comes to cleaning or in cases of wear, print rollers and transport rollers can be removed easily by the operator with the help of a tool attached. AXON 2 may be integrated in a Laboratory Information Management System (LIMS). Data transfer from a PC is possible via interfaces such as RS232, USB, Ethernet, or via WLAN.
In stand-alone operation, when no PC is connected, variable data are set with a keyboard or a scanner. Power may be supplied by 110 to 240 VAC voltage or 36 to 60 VDC voltage, 24 VDC on request.
Details on tube labeling

1) Stop
With the help of spacers assembled to the tightening axles, slim ribbons can be set easily.
2) Slim print rollers
In order to achieve accurate imprint on small labels, slim print rollers are needed. These prevent from roller wear, print head contamination and errors during label feed.
3) Peel-off function
Labels are guided over a deflection roller to be applied reliably on the tubes.
4) Transport rollers
They apply the labels on the tubes. Three types are provided for different tubes.
5) Wipe-down rollers
During labeling, they press the tubes to the transport rollers.
6) Pivot arms
They are set according to the length of a tube and the position of the label.
7) Material replacement
Pivoting the applicator allows labels and ribbon to be inserted.
Tube labeling system
AXON 2
4.3
AXON 2
4
Material guide
centered
Printing method Thermal transfer

Printing method

Thermal direct
–
Printable resolution dpi
300
300
600
Print speed mm/s
150
150
150
Print width up to mm
108,4
105,7
105,7
Material
Tubes Orientation during labeling
horizontal

Tubes

Diameter mm
10 – 17

Tubes

Length capped mm
38 – 105

Tubes

Conicity (change of diameter) up to %
0,8
Labels Material
Paper, plastics PP, PC

Labels

Width mm
10 – 56

Labels

Height from
15

Labels

Roll diameter up to mm
205

Labels

Core diameter mm
38 – 76

Labels

Winding
outside
Liner material width up to mm
60
Ribbon Ink side
outside or inside

Ribbon

Roll diameter up to mm
80

Ribbon

Core diameter mm
25

Ribbon

Variable length up to m
450

Ribbon

Width mm
25–114
Printer sizes and weight
Width x Height x Depth mm
252 x 288 x 520
Weight approx. kg
12
Interfaces
RS232 C
1,200 to 230,400 baud/8 Bit
USB 2.0
Hi-speed device to connect a PC
Ethernet
10/100 Mbit/s
1 x USB host on the operation panel for
Service Key, USB memory stick
1 x USB host on the operation panel for
USB WLAN stick 2.4 GHz 802.11b/g/n
2 x USB host on the back of the device for
keyboard, barcode scanner, USB Bluetooth adaptor, USB WLAN stick
Digital I/O interface
providing 8 inputs and outputs  
Operating data
Power supply
100 – 240 VAC, 50/60 Hz, PFC  
36 – 60 VDC        24 VDC on request
Power consumption
Standby < 10 W / typical 100 W
Temperature/humidity: Operation
+5 – 40 °C / 10 – 85 %, not condensing

Temperature/humidity:

Stock
0 – 60 °C / 20 – 85 %, not condensing

Temperature/humidity:

Transport
–25 – 60 °C / 20 – 85 %, not condensing
Approvals
CE, FCC Class A, ICES-3, cULus, CB
Operation panel
Coloured LCD touch display Screen diagonal "
4,3

Colored LCD touch display

Resolution W x H px
272 x 480